Disc with sanding blades. Extremely long lasting. Ideal for welding and stainless steel.
Specifications M-pro Flap Disc – Mirka
115x22mm.
Available in pack of 10 pieces.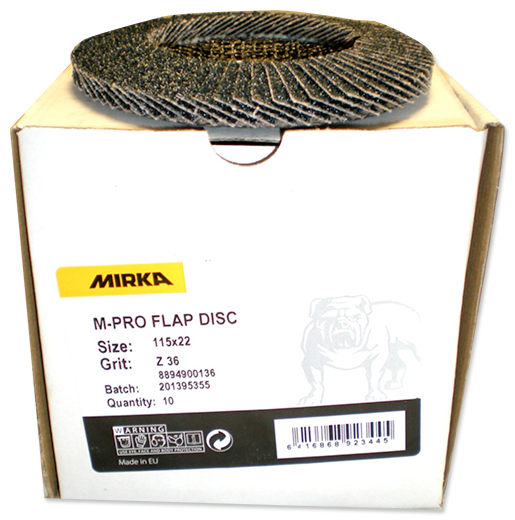 Our other Surface preparation
Abralon is a unique, multipurpose abrasive developed to tackle...

As the first multipurpose net sanding tool, Abranet combines...

Specially designed for outstanding results in the most delicate...

A staarated abrasive designed for dry sanding, Carat Flex...

Thanks to specially reinforced support and Mirka's Progressive BondTM...

The Dry Guide Coat has excellent roofing properties. The powder makes visible all imperfections...

Fiber A discs have the durability and flexibility required...

Resistant and versatile, this abrasive is particularly suitable for...

Jepuflex® Plus is a truly universal, high-quality abrasive that can effectively remove material in...

With its unique structure, the Mirlon is a three-dimensional...

Polarshine 10 is a thin polishing compound specially formulated...

Polarshine 25 is designed for glossing gelcoats. It buffs...

Featuring a flexible and durable latex impregnated paper backing,...